ONLINE ORDERING
Minimum order of $20.00 required.
Orders are available for local pick-up or shipping via USPS.
Shipping charges are based on delivery to bordering states (VA, DE, PA, NJ). Orders shipping to other states must pay actual shipping charges.
PayPal, Visa, MasterCard, American Express, Discover, money orders, cashier checks or personal checks accepted. (Items will ship once personal check clears; usually within 3 business days.) To order with your credit card, go to Checkout/Pay without a PayPal Account (PayPal guest checkout) and enter your credit card information.
Refunds given in the event of merchandise defect only.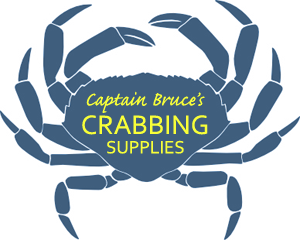 10" Basic Recreational Winder - You asked for it, so here it is!
Many of you have asked for a inexpensive, lightweight, easily removable, trot line winder that you can use on your little boat. This is just a basic winder and you must remember that the trotline must wrap at least halfway around the sheave and the trotline must remain tight when pulling it in. 10' of #10 marine grade power cord with 60 amp fuse protection, foot mounted switch with jog and hands-free continuous function, heavy duty steel knife, extra large splash guard (other features pictured below). Weighs 22 lbs. Note: All Cadillac Recreational Grade options will work with this winder (RCW15, RCW20, RCW25, SSRDH, 48PP, #22). Click pictures to enlarge.
Recreational Basic Winder (Item #RBW)
Reg Price: $ 749.00
Sale Price: $ 699.00

10" Cadillac Recreational Grade Winder - The best Recreational Winder on the market!
Works great with any types of lines (tied direct, snoods and clam bags). 10' of #10 marine grade power cord with 60 amp fuse protection, 12 volt mounted switch, extra large splash guard included. More features shown below. Weighs 33 lbs. Comes with a 30 day warranty: If a problem develops with normal use within 30 days after purchase, bring it to the Crab Barn and Captain Bruce will repair free of charge. Customer is responsible to pick up or arrange shipping after repair. Click pictures to enlarge.
Recreational Cadillac Winder (Item #RCW)
Reg Price: $ 949.00
Sale Price: $ 899.00

---
Other Options
NOTE: If you purchase any option with your winder, the option replaces the standard item offered with your winder.
12 volt #10 Marine Grade Winder Motor Power Cord

Stainless Steel Rod Holder

48" Pestal Pipe with Side and Floor Brackets

10" Steel Knife (Item #53)

10" Steel Sheaves (Item #54)

10" Galvanized Liners (Item #22)