ONLINE ORDERING
Minimum order of $20.00 required.
Orders are available for local pick-up or shipping via USPS.
Shipping charges are based on delivery to bordering states (VA, DE, PA, NJ). Orders shipping to other states must pay actual shipping charges.
PayPal, Visa, MasterCard, American Express, Discover, money orders, cashier checks or personal checks accepted. (Items will ship once personal check clears; usually within 3 business days.) To order with your credit card, go to Checkout/Pay without a PayPal Account (PayPal guest checkout) and enter your credit card information.
Refunds given in the event of merchandise defect only.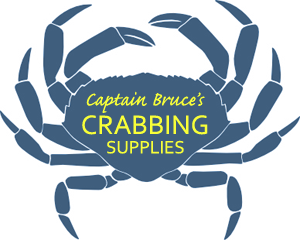 The clam bag attachment is the best all purpose design that works great for every type of crab line, including tie direct bait, snood lines and clam bags. The design allows your crab line to ride smoothly over the large dia SS pipe, and thru the SS ramp supporting the crab line. This design is proven and has been used by commercial crabbers for years. This design allows the line to run smoothly over the basket without the crab line jerking. This attachment is designed with a crab line guide which allows you to guide your crab line into the SS ramp just by running the SS guide into the crab line. The roller assy and the razor clam attachment are interchangeable and will fit on both dipper baskets made by Captain Bruce. The TIG welded stainless steel clam bag attachment is bolted to the top of dipper baskets for easy removal The total weight for the SS clam bag attachment is 21 lbs.
30" x 30" Recreational Auto Dipper Side Extensions
Click picture to enlarge

Rollers Assembly w/ Flat Plates (Item 257)

Just need the rollers? This roller is the same as #256 but mounted on a flat bar for easy installation on your existing arm. Overall size of roller assembly is 4" W x 10 " L. Our rollers are made of polyurethane and they are extremely cut and abrasion resistant. Won't split or crack, even in extreme cold. The long horizontal roller is 3" in dia x 9 3/4" L, and the (2) vertical rollers are 2" dia x 6" L. Weight is 6 lbs.
Auto Dipper Brackets (Item #164)
Now you can go in half with your crabbing buddy on an auto dipper and use it on as many boats as you want. Just order and install brackets (complete with SS mounting hardware) in other boats and lift the auto dipper and pole and just slide it into the brackets in your buddy's boat.
Replacement Stealth Dipper Bag (Item #SDBAG)
Crabs see the old fashion white bags coming and drop off your line before you can catch them. Catch more crabs by using the new Stealth Dipper Bag because the crabs can't see the dipper coming. 30" W x 30" H x 48" L. Weighs 4 lb. For custom orders, contact Contact Bruce with request.