ONLINE ORDERING
Minimum order of $50.00 required to ship.
Orders are available for local pick-up or shipping via UPS.
Shipping charges are based on delivery within Maryland. Orders shipping to other states must pay actual shipping charges.
PayPal, Visa, MasterCard, American Express, Discover, money orders, cashier checks or personal checks accepted. (Items will ship once personal check clears; usually within 3 business days.) To order with your credit card, go to Checkout/Pay without a PayPal Account (PayPal guest checkout) and enter your credit card information.
Refunds given in the event of merchandise defect only.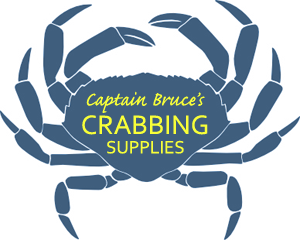 5' Wire Dip Net w/ Wood Handle (Item #100)
Only weighs 1 3/4 lbs. The hoop is made out of 1/2" diameter extruded aluminum and is perfect for crabbers who like to keep their net in the water as they dip. The attached net is Item #107 and is 15" dia x 12" D and attached to rim using 1" hog rings on a 4' L wood handle. The perfect net for kids and older dippers. Ships in 2 pcs;  just remove 2 screws, slide the hoop ends into the handle and replace the screws.
6' Wire Dip Net w/ Fiberglass Handle (Item #101)
The handle is retractable (contracted overall length is 6'; extended length is 7'4"). The hoop is made out of 1/2" dia extruded aluminum and is perfect for crabbers who like to keep there net in the water as they dip. The attached net is custom made by captain Bruce and is 15"W x 15"L x 12"D and made with 18 gauge galvanized salt water grade wire. Made in the USA. Total overall pick up length is 7'4"L and weighs only 2.4 lbs. UPS considers The 72" handle as oversize and charges $45 to ship handle. The handle can be cut down to 47" and ships for $35. The net ships in 2 pcs. The perfect net for commercial and serious crabbers. To assemble, remove 2 screws and slide the hoop ends into the handle bracket and tighten the screws.
$89.00
Commercial Grade Culling Gloves (Item #118)