Public Notice: Chesapeake Bay Recreational Hard Crab Catch and Possession Limits
The Secretary of the Maryland Department of Natural Resources announces modifications to the recreational male hard crab catch and possession limits for the Chesapeake Bay and its tidal tributaries based on results of the 2022 winter crab dredge survey. Effective 12:01 a.m. April 1-June 30, 2023, male hard crab catch and possession limits for individuals on a vessel are:
Unlicensed Boat
w/ 1 unlicensed individual: 2 dozen male crabs
w/ 2 or more unlicensed individuals: 4 dozen male crabs
w/ 1 or more licensees and any number of unlicensed individuals: 1 bushel of male crabs
Licensed Boat
w/ any number of licensed or unlicensed individuals: 1 bushel of male crabs
Code of Maryland Regulations 08.02.03.14G. | Read the complete notice here.
About Captain Bruce
Captain Bruce Shroyer is a certified by the US Coastguard Captain and also a commercial crabber with over 40 years experience crabbing the waters of the Chesapeake Bay. He is one of the very few commercial crabbers who uses stackable crab traps to catch crabs. Captain Bruce has been making stackable traps for over 15 years. He continuously uses the knowledge he gains by using his traps out on the water to improve the design and operation of the traps. This allows you, the recreational crabber to have a worry-free and productive crabbing experience. He has owned and operated Captain Bruce's Crabbing Supplies since 2008.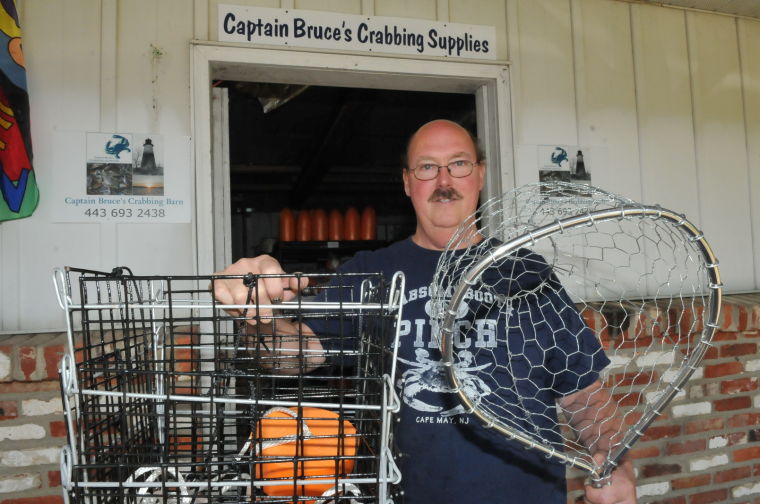 THE CRABBING BARN - AN INTERNET STORE FOR CRABBING SUPPLIES
Need crabbing supplies? Read below for local pick-up or UPS shipment.
Crab Barn Hours
We do not have regular store hours because Captain Bruce's Crabbing Barn is not a store! We are an Internet warehouse (located at 785 Howery Lane, North East, MD) where customers can order crabbing gear through this website for local pick-up.
If you need crabbing gear, email or text Captain Bruce at 443-693-2438 and let him know what you are looking for (item numbers are best) and when you want to come to the Crabbing Barn to pick up your order, or you can order directly on the website and Captain Bruce will ship your order UPS.