ONLINE ORDERING
Minimum order of $50.00 required to ship.
Orders are available for local pick-up or shipping via UPS.
Shipping charges are based on delivery within Maryland. Orders shipping to other states must pay actual shipping charges.
PayPal, Visa, MasterCard, American Express, Discover, money orders, cashier checks or personal checks accepted. (Items will ship once personal check clears; usually within 3 business days.) To order with your credit card, go to Checkout/Pay without a PayPal Account (PayPal guest checkout) and enter your credit card information.
Refunds given in the event of merchandise defect only.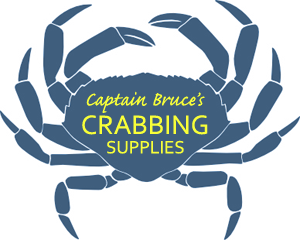 Adjustable Heavy Duty PVC Prop Stick/Standard (With Base) 
Looking for a prop stick that you can easily customize for your boat? Well, look no further because this is it! This overall length is adjustable from 36" (retracted) to 42" (extended) from the mounting bracket base to the outside flange of the roller and the adjustment to the water level (from the top of the 4" roller to the bottom of the base mounting bracket) is 12" (retracted) to 16" (extended). Custom sizes available for $20 more. Contact captain Bruce for more information. And the best thing about this design is that the 4" pipe will slide around the PVC pipe while preventing your snoods and clam bags from wrapping around the prop stick and helps prevent wear caused from the snood line. This adjustable prop stick works best if maximum adjustment is extended while leaving at least 2 bolts in order for pipe to remain rigid. If you need more length in either direction its easily modified my cutting PVC prop stick and gluing a coupling with the extended pipe needed. Total weight 9 lbs. Click pics to enlarge.
---
Removable Prop Stick (Fixed - Non adjustable, non rotating) No Base 
New and improved! Removable prop sticks are designed by Captain Bruce and can be used on any boat mounted. This prop stick can be customized for your boat. To mount your prop stick, all you have to do is just drill two 1/4" holes on the top of the side of your boat and mount the base, Then screw the prop stick into the base mount ,and when you are finished crabbing just unscrew the prop stick and leave the base for the next trip, Made out of 1 1/2" PVC pipe overall length is 32" (6" between "field goals," 24" from inside of base to center of "field goal" to allow plenty of room for dipping). Easily modified for any boat by cutting the PVC pipe and gluing a 1 1/2" coupling with a correct size piece of 1 1/2 PVC pipe. Bases sold separately (uses item #149 and #169 bases). Total weight 9 lbs. Click pics to enlarge.

---
Removable PVC Prop Stick for Rod Holder Mount (Item #66RHM)
---
Removable PVP Prop Stick for Rod Holder Mount w/ SS Rod Holder (Item #66SSRHM)
Complete assembly. Just install SS rod holder and the PVC prop stick fits well and is removable.
---
Adjustable Stainless Steel Ramp w/ Swing Arm Bracket (Item #199)
Solid SS round rod is TIG welded to front of ramp to help keep your snood line stay in the middle of the ramp and move up the ramp smoothly. Overall length is 60" (from end of bracket to outside edge of SS ramp); minimum length is 45".) Ramp height adjustment 3'-15", ramp SS thickness is .110"; SS ramp is 6" wide x 13" long; sides of ramp are 3 1/2" high. Weight 13 lbs.
---
Stainless Steel Swing Arm Bracket for Item 199 (Item #198)
---
1 1/2" PVC Base Mount (Item #149)
Make your own prop stick! 1 1/2" threaded coupling welded to 1/4" base. Overall size 10 1/2" wide x 4" long.
---
1 1/2" PVC Rod Holder Mount (Item #169)
---
Cadillac Winder Option: SS Rod Holder Mount (Item #11)