Online Ordering
Orders are available for local pick-up or shipping via UPS.
Visa, MasterCard, Discover, money orders, cashier checks, cash or personal checks accepted. (Items will ship once personal check clears; usually within 3 business days.)
Refunds given in the event of merchandise defect only.
Flat Rate Shipping
Orders up to $24.99: $10
Orders between $25-$190.99: $15
Orders between $191-$299.99: $20
Orders between $300+: Free Shipping (excludes bulky items):
Bulky Items Surcharge: Deluxe Trot Line Kits $75; Winders $50; Dip Nets $35-45; Baskets $20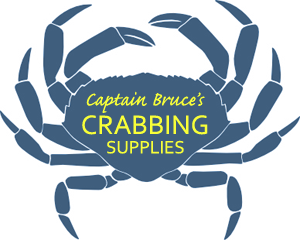 Fixed PVC Prop Sticks
Removable prop sticks are designed by Captain Bruce and can be used on any boat mounted. This prop stick can be customized for your boat. To mount your prop stick, all you have to do is just drill two 1/4" holes on the top of the side of your boat and mount the base, Then screw the prop stick into the base mount, and when you are finished crabbing just unscrew the prop stick and leave the base for the next trip.
Adjustable PVC Prop Sticks
Looking for a prop stick that you can easily customize for your boat? Well, look no further because this is it! This overall length is adjustable from 36" (retracted) to 42" (extended) from the mounting bracket base to the outside flange of the roller and the adjustment to the water level (from the top of the 4" roller to the bottom of the base mounting bracket) is 12" (retracted) to 16" (extended). Custom sizes available for $20 more. Contact Captain Bruce for more information.