ONLINE ORDERING
Minimum order of $50.00 required to ship.
Orders are available for local pick-up or shipping via UPS.
Shipping charges are based on delivery within Maryland. Orders shipping to other states must pay actual shipping charges.
PayPal, Visa, MasterCard, American Express, Discover, money orders, cashier checks or personal checks accepted. (Items will ship once personal check clears; usually within 3 business days.) To order with your credit card, go to Checkout/Pay without a PayPal Account (PayPal guest checkout) and enter your credit card information.
Refunds given in the event of merchandise defect only.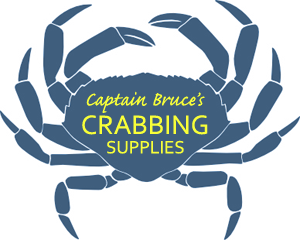 ---
The secret is finally out! Want to catch more crabs? Go Stealth!
Every commercial crabber who owns a "Stealth" snood line says that their Stealth line quickly becomes there favorite because it flat out catches more crabs than any white lines they own. Every crabber has a different opinion on why their Stealth line catches more crabs. Some think that's its because its a little harder to see than the white line and the crabs can't see it either so they are more comfortable eating the bait, so they don't drop off and stay on longer so you bring more crabs to the surface. Others say its because the Stealth line is a sinking line and its always lays on the bottom of the river without added weight where the crabs are feeding. But either way, it catches crabs! The big secret that the commercial crabbers don't want the recreational crabbers to know is that Stealth snooded crab lines (baited with razor clams) is the ticket for catching more crabs.
Click here to read about line quality and for a snood/trotline comparison chart.
---
Stealth - "Virginian" - 300'
Legal in Virginia, 300'L is the maximum allowed in VA for recreational crabbers. Now recreational crabbers in VA can crab "Maryland Style." Search YouTube for videos on how to use a trot line (or snood line) and take some friends out crabbing and have some fun! And for the MD crabbers, this length is the perfect size for use in small creeks. They can be crabbed singularly or hook 4 together to make the 1200' maximum length allowed in MD waters. This is also a great crabbing option because it allows you bait 300 feet at a time (instead of baiting all 1200 feet). The main line is made from sinking crab line with snood spacing every 6'. That's approx. 50 baits on a single 300' line.
1/8" snoods, 6' spacing
Item #89S
$115.00

1/8" snoods, 4' spacing
Item #93S
$130.00
3/16" snoods, 6' spacing
Item #156S
$115.00
3/16" snoods, 4' spacing
Item #157S
$130.00
---
1/4" (#8) Solid Braid Sinking Stealth Line
600' w/ 6' spacing
1/8" snoods
Item #84S
$169.00
1200' w/ 6' spacing
1/8" snoods
Item #86S
$329.00
600' w/ 4' spacing
1/8" snoods
Item #85S
$209.00
1200' w/ 4' spacing
1/8" snoods
Item #87S
$399.00
600' w/ 6' spacing
3/16" snoods
Item #137S
$169.00
1200' w/ 6' spacing
3/16" snoods
Item #99S
$329.00
600' w/ 4' spacing
3/16" snoods
Item #138S
$209.00
1200' w/ 4' spacing
3/16" snoods
Item #65S
$399.00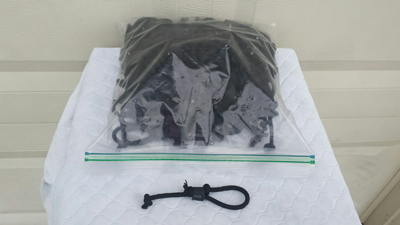 30 Pack
3/16" Stealth Snoods
Item #300
$25.00
100 Pack
3/16" Stealth Snoods
Item #301
$60.00
600' w/ 6' spacing
1/8" snoods
Item #315
$169.00
600' w/ 4' spacing
1/8" snoods
Item #316
$209.00
600' w/ 6' spacing
3/16" snoods
Item #319
$169.00
600' w/ 4' spacing
3/16" snoods
Item #320
$209.00
1200' w/ 6' spacing
1/8" snoods
Item #317
$329.00
1200' w/ 4' spacing
1/8" snoods
Item #318
$399.00
1200' w/ 6' spacing
3/16" snoods
Item #321
$329.00
1200' w/ 4' spacing
3/16" snoods
Item #322
$399.00